Removing menu items from admin bar
Well, you can remove unwanted menus from the admin bar (Only WordPress default links and certain popular plugins links).
Navigate to WPShapere -> Adminbar Options -> REMOVE MENUS FROM ADMIN BAR
Then you need to select the appropriate check boxes options that you want to remove.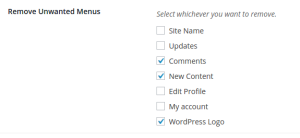 Note: If you're a privilege user (if your profile is selected under WPShapere -> SET PRIVILEGE USERS), then you will see menu items as a privilege user. Log in as a different user account to test the hidden menu items.
Adding menu items to admin bar
As a Notable feature you can add custom menu links to the admin bar. You can add admin bar menus from the WordPress default menu creation page.
To do this, go to Appearance -> Menus.
There you can see a new Menu location created inside the menu creation tab.
Then create a new menu by setting a menu name for example "Admin bar links" and select the location "Admin bar menus" and save.
Now you can create any number of menu links and add them to admin bar.